Ring Resizing & Ring Repairs
Ring resizing and ring repairs in the UK.
Like you, so many people trust me to work on their precious jewellery.
Your ring might be broken, damaged or just need sizing up or down.
I just need to know some simple details.
Most damage can be expertly repaired, but sadly some rings are just too far gone for an economical repair.
Once I have seen your ring in person, I can give you a proper evaluation as to its likelihood of having a successful repair, sizing or restoration.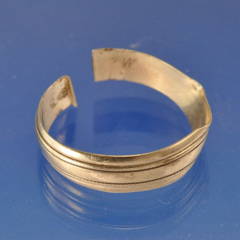 Guide To Ring Sizing Costs
| Material | Price |
| --- | --- |
| Silver | £50 - £100 |
| 9K Gold | £75 - £150 |
| 18K Gold | £90 - £180 |
| Platinum | £100 - £200 |
The prices in the table are a rough range of typical prices.
Your ring design may be more complex and require more time to re-size, so please take these quotes as a rough guide.
Ring Sizing & Ring Repair Quote
The quote will be as close an estimate that I can give until I see the ring in person. At which point I can advise further should the resizing be easier or more difficult.